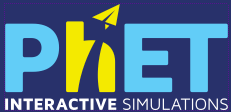 by Kristie Burk
If you're looking for simulations for your students, check out PhET, from the University of Colorado Boulder. PhET provides free, interactive, research-based science and mathematics simulations. The simulations are written in Java, Flash or HTML5, and can be run online or downloaded to your computer.
There are simulations in chemistry, biology, physics, math, health, and earth science. You can find simulations by device, grade level or even "cutting-edge research." The website also includes resources for teachers to use.
PhET conducts research on the interactive simulations to better understand how students engage with them. Most of the simulations can be downloaded and/or embedded directly into a learning management system, such as Schoology.
Do you want to see some simulations in action? Try to balance a chemical equation below!
http://phet.colorado.edu/sims/html/balancing-chemical-equations/latest/balancing-chemical-equations_en.html